 Brand NEW Gel Dépilatoire
THE BEST CHOICE FOR
FULL BODY HAIR REMOVAL
Provides smoothness in NO TIME!
EFFECTIVE
Removes even thick hair from the whole body

PAINLESS
Always gentle and safe even on sensitive skin.

LONG-LASTING
Works in just 7' to provide durable results mobile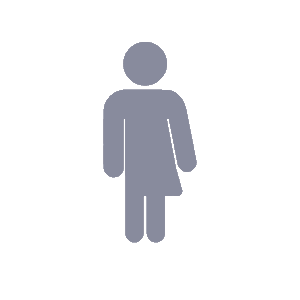 ALL-OVER BODY GEL
Suitable for: +both women and men +all skin types and colors + any hair type.
POWERFUL & SAFE
for Body, Underarm, Arms, Bikini, and Legs. Caters all your smoothness needs, protecting from irritation even the sensitive areas.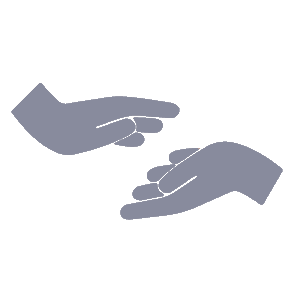 EASY TO USE AT HOME
Comes in a convenient bottle for easy and quick hair removal in just 7 minutes. Everywhere, any time.
FOR SMOOTH.

HAIRLESS.
SIMPLY IRRESISTIBLE SKIN.

Discover the upgraded L'Esthe formula infused with Passion fruit that works even better. Get completely hairless faster, enjoy smoothness for longer.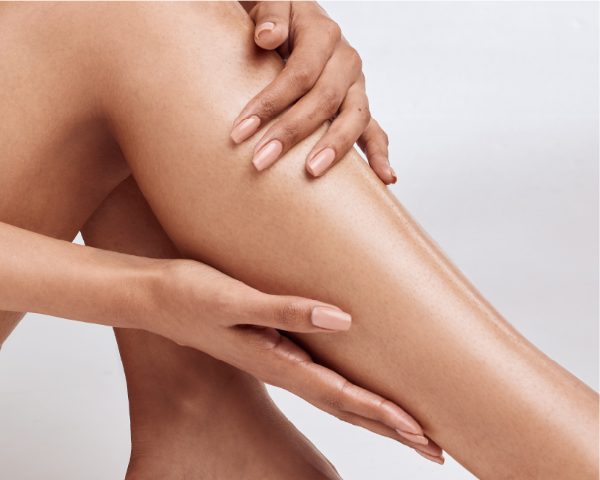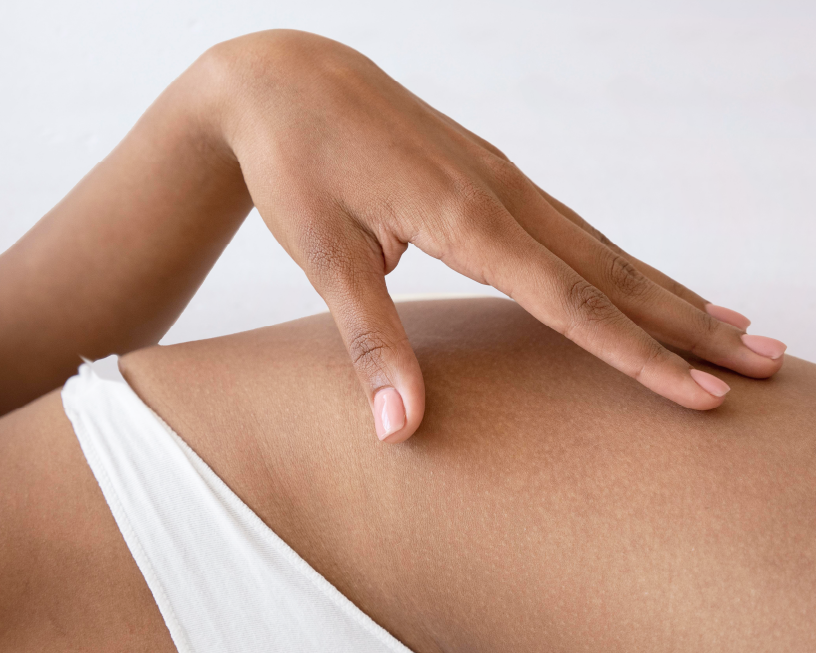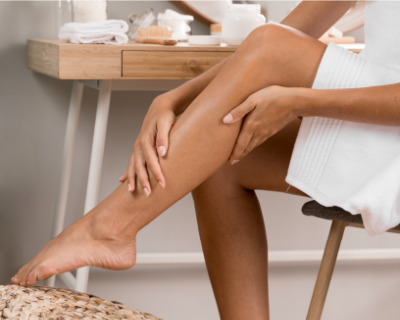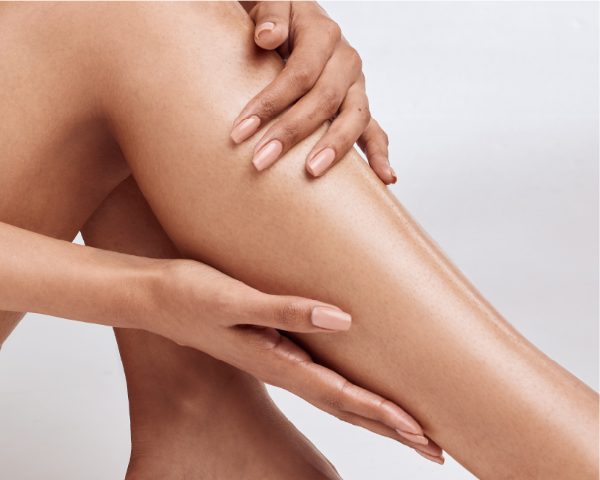 HIGHLY-EFFECTIVE FORMULA


removes even short thick hair

The new advanced formula promotes a painless but effective hair removal, leaving the treated areas absolutely hairless and non-irritated. Your hair-free skin is protected and feels at its best.

Forget the unpleasant sensation of physical ripping of the hair out of the follicle with еpilators or tweezers.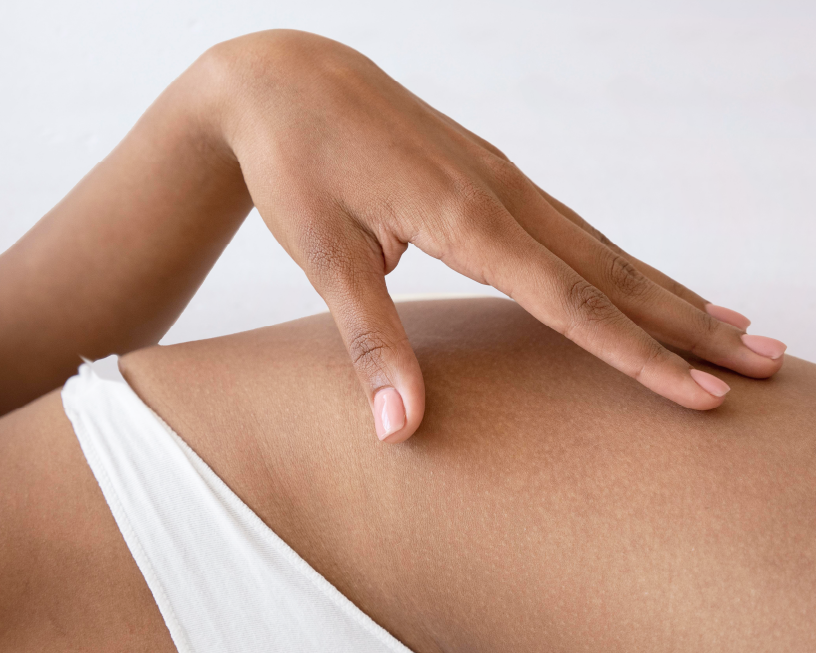 LONG-LASTING RESULTS


slows hair regrowth

The fast-acting solution enhanced with Passion fruit removes hair effectively and thoroughly. To reduce hair growth significantly, use it regularly. The new formula makes hair grow back finer, fewer, and softer.

Leave in the past the old short-term methods resulting in extra hair growth and ingrown stubble.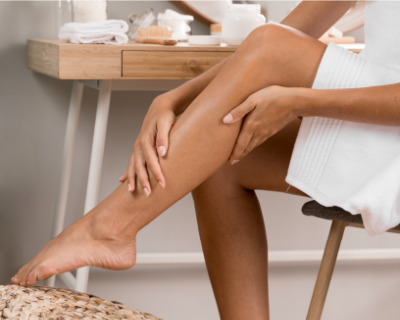 IRRITATION-PROOF


at-home method

L'Esthe dissolves hair gently - NO itchiness, irritation, breakout, burning, or peeling in sensitive areas like the bikini line. The effortless hair removal is for everybody who prioritizes ease of use but still wants optimal results.

Say farewell to skin irritation and time-consuming procedures in expensive beauty salons.
FREE DELIVERY
EXPRESS SHIPPING
SECURE PAYMENT
L'ESTHE VS. CONVENTIONAL
HAIR REMOVAL METHODS.
L'Esthe conducted a case study among 1470 respondents. Women and men of different nationalities and various age groups between 18-68 years compare the four hair removal methods.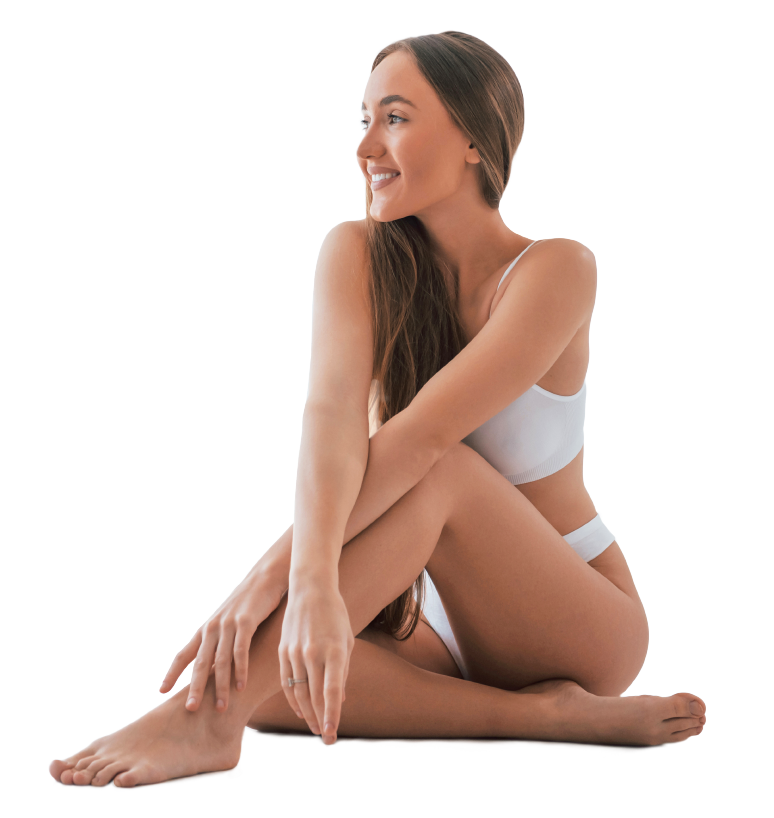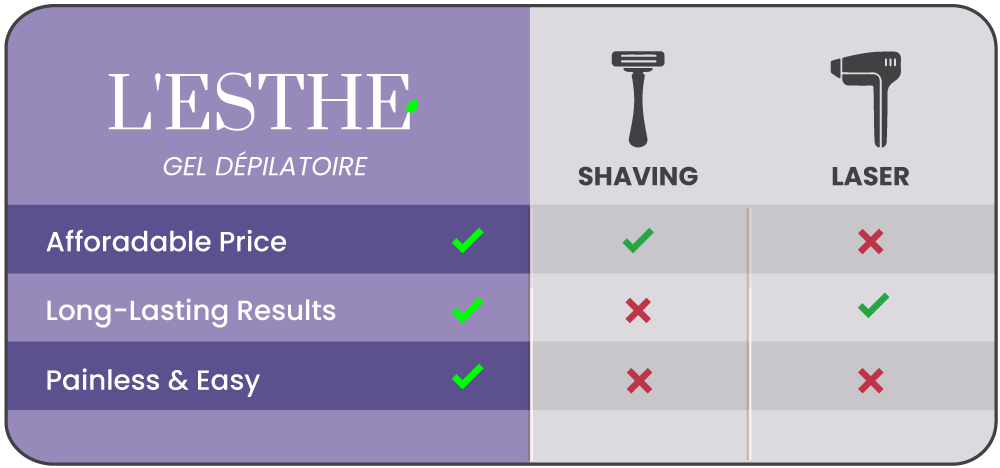 Side Effects
SHAVING

cuts
irritation
dryness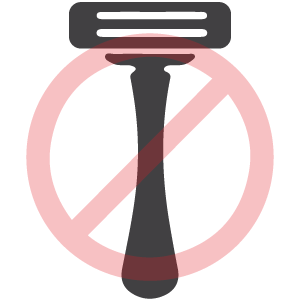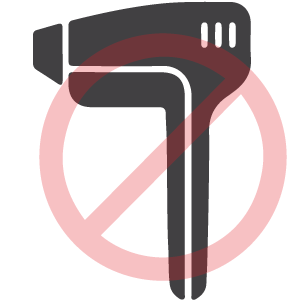 LASER

redness
scars
discolouration
NO SIDE EFFECT
The results show that L'Esthe is: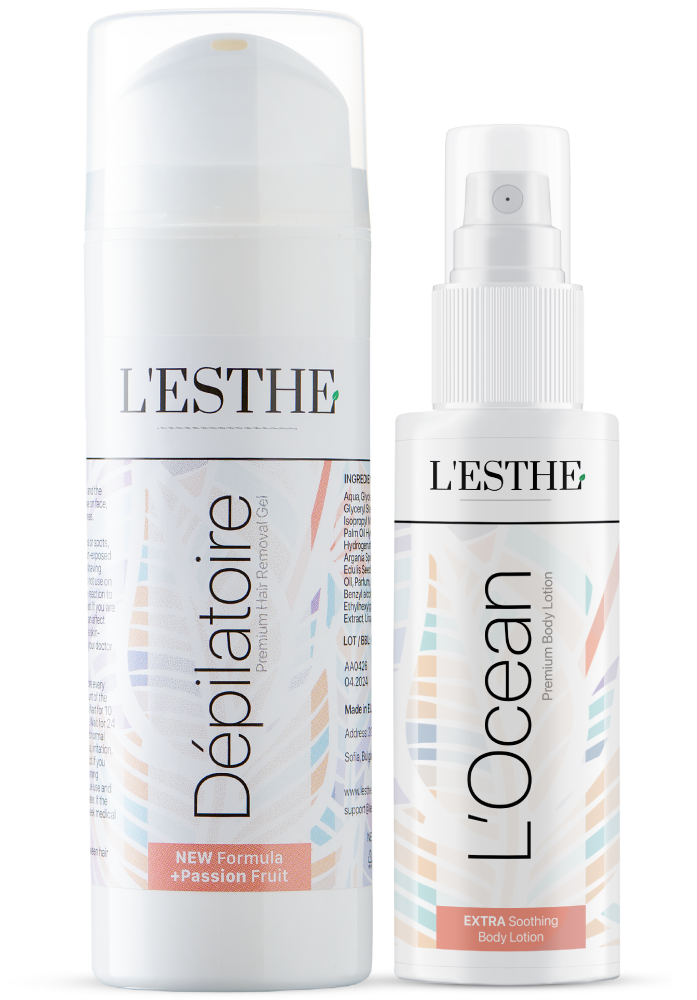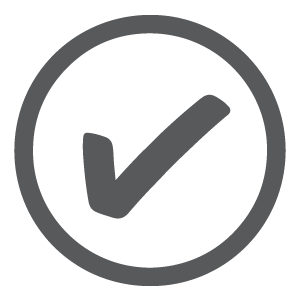 7 times more
effective
than shaving
9 times
easier
than epilation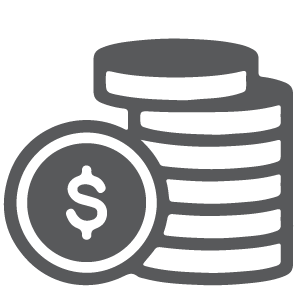 20 times
cheaper
than laser hair removal procedures
The conclusion:

Using L'Esthe is a whole new experience. It is affordable, pain-free and slows the hair regrowth.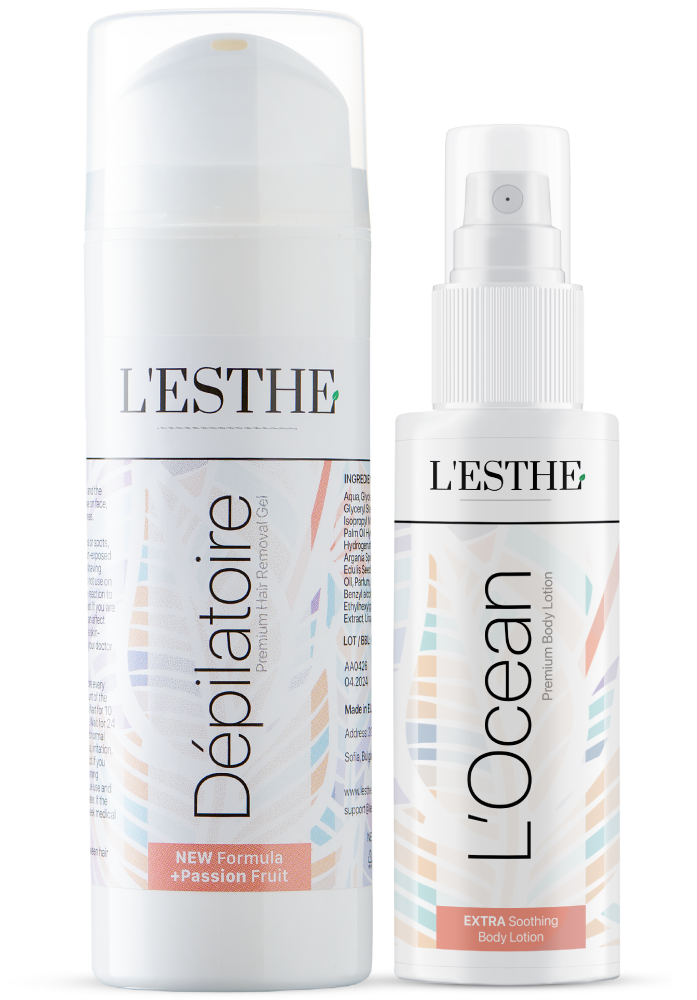 THE BEST HAIR REMOVAL KIT:
L'ESTHE + L'OCEAN body lotion
NOW your favourite gel dépilatoire comes with an exceptional post-hair-removal body lotion L'Ocean. Suitable for all skin types.
Feel the ocean breeze caress your perfectly hairless skin as you take an exquisite post-depilatory care of your body
Apply L'Ocean Body Lotion after the depilation to speed up the skin's natural barrier recovery and to provide ultimate hydration. Its highly-effective formula and light, fast-absorbing texture, leaves skin feeling touchably smooth and moisturized long after applying.
NEW
NEW
NEW
NEW
NEW
NEW
NEW
NEW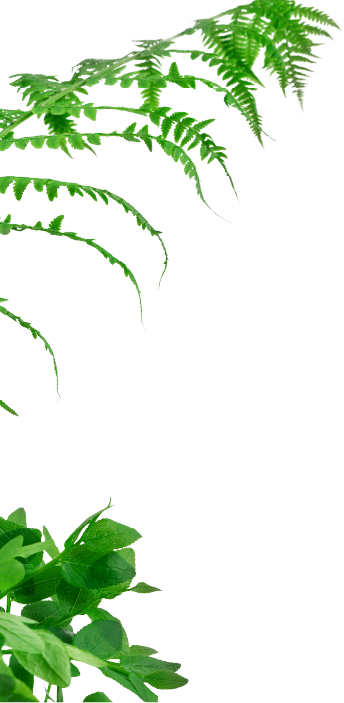 Formulated with Larrea & seaweed extract
that work perfectly together to lock in skin moisture and restore your skin's protective barrier to feel smooth like kissed by the ocean breeze.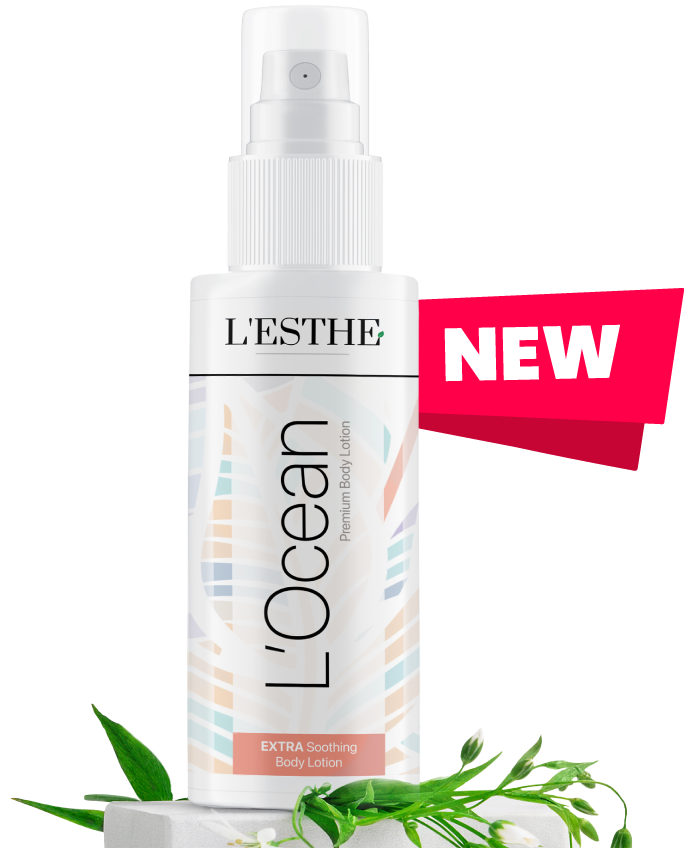 L'Ocean ensures:
24h perfectly-balanced hydration, never greasy or heavy
extra-soothing comfort toned up with a refreshing cool scent
even longer post-depilatory effect, leaves the skin extra-soothed
Need a perfect finishing touch to your routine? Expand the tremendous hair removal experience and enjoy 100% smooth, hydrated and nourished skin!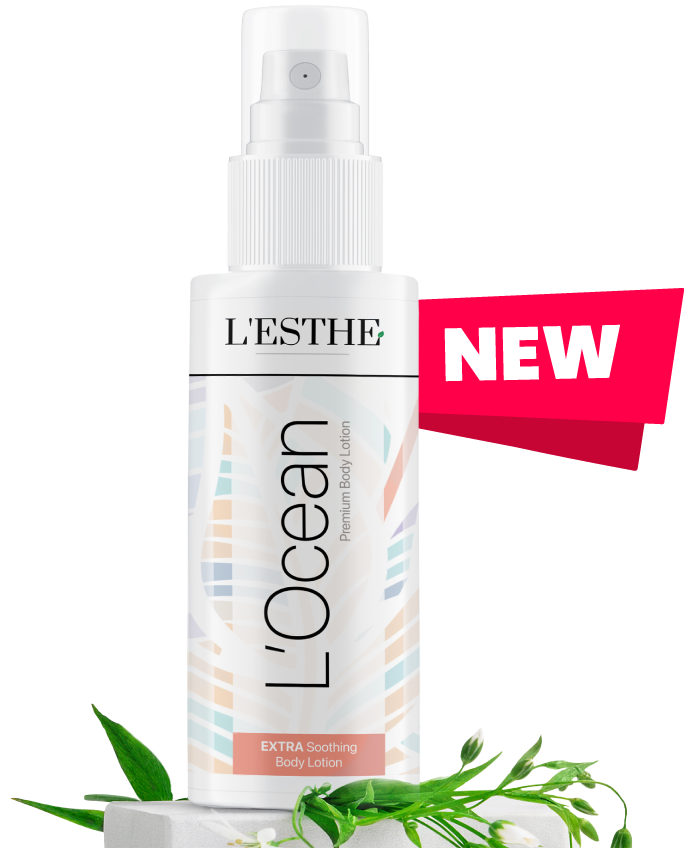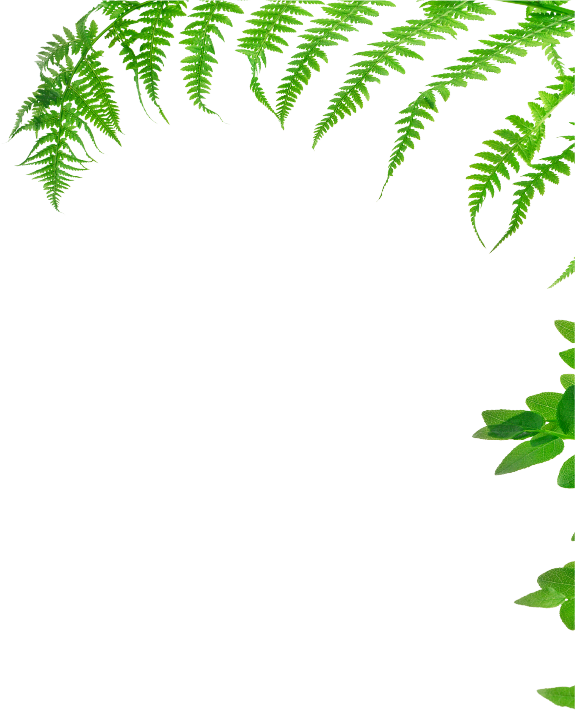 150 000+ HAPPY CUSTOMERS.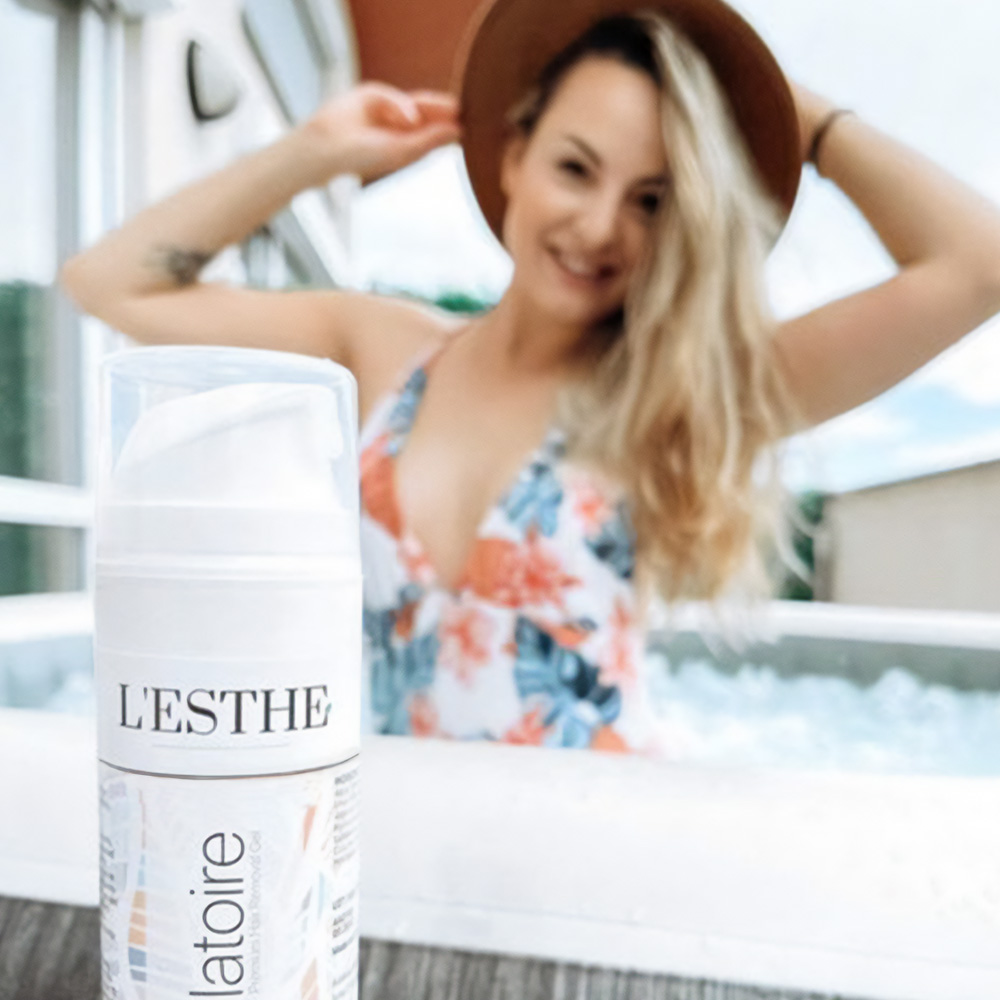 Dianna Garner
Shaving used to be my most frustrating beauty chore: took me time, my skin itched and caused me so many ingrown hairs that I felt ashamed. I am glad that I found L'Esthe. It's fast - works for minutes and the smooth skin lasts for weeks. I use the lotion after depilation and my skin feels hydrated and soft.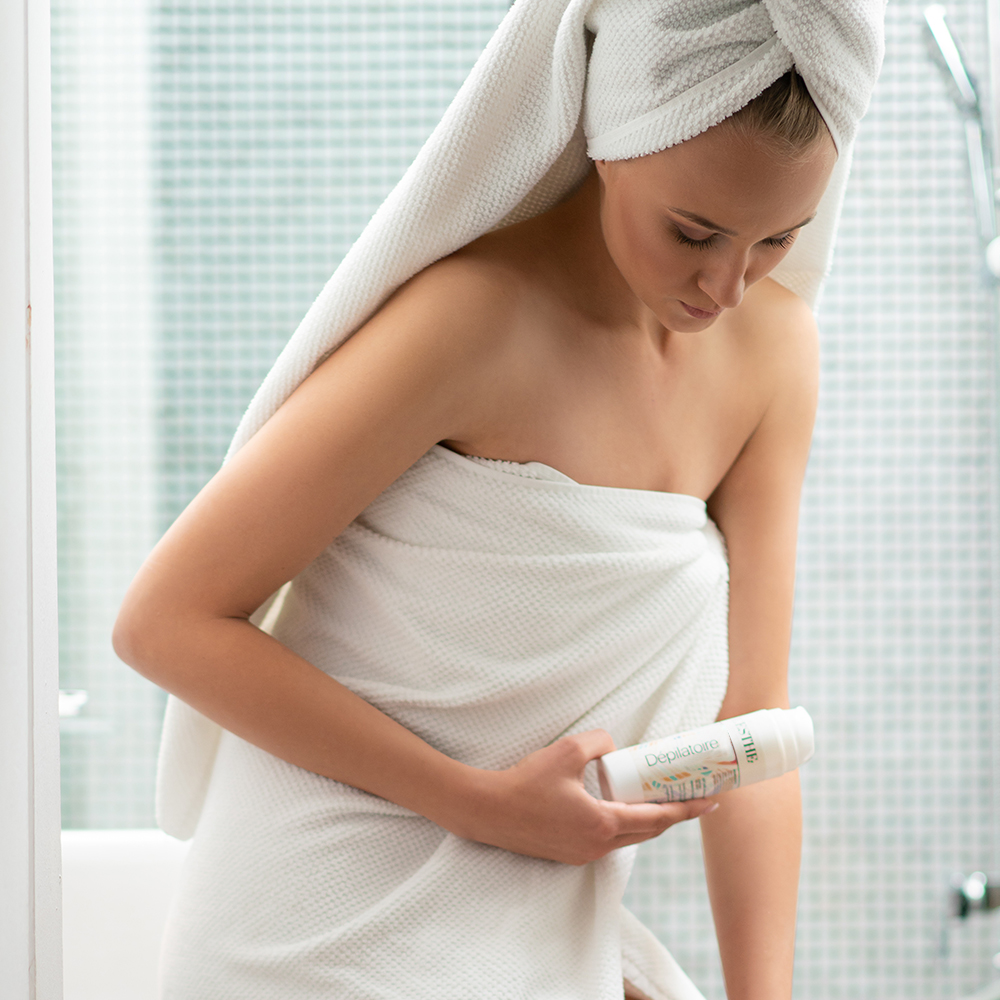 Beatrice Butler
To me, L'Esthe is hair removal on another level. I use it all over the body: legs, arms, underarms, and the delicate bikini line. The hair on my legs is really thick but this gel does the job for around 7 minutes while the lotion leaves the skin soft. No more razors and epilators for me, no more ingrown hairs and rashes.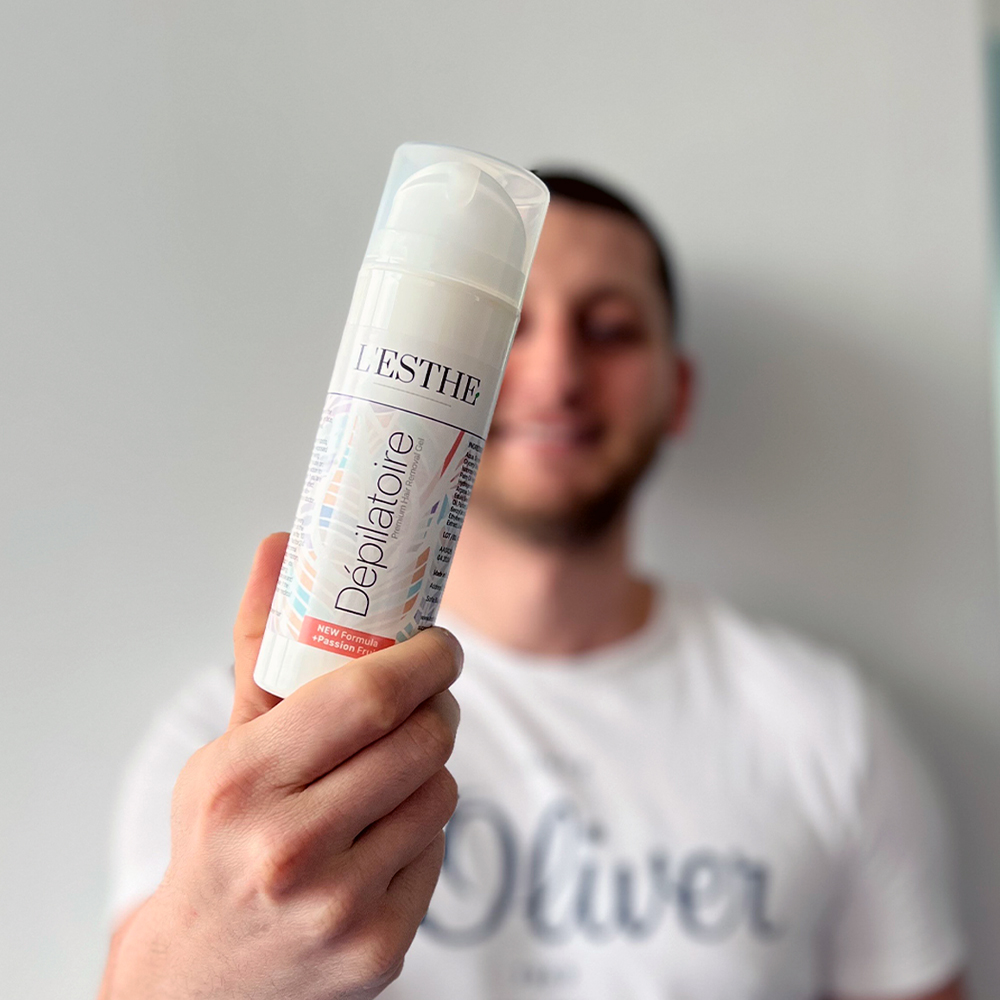 Terry Ford
This product works well at removing hair from various body areas. I usually apply it to my chest, arms, and legs and I feel smooth for around 3 weeks. It gives a quite long-lasting result compared to shaving these areas when the skin stays smooth for around 12 hours. Also, the gel doesn't burn my skin like the depilatory creams I tried in the past.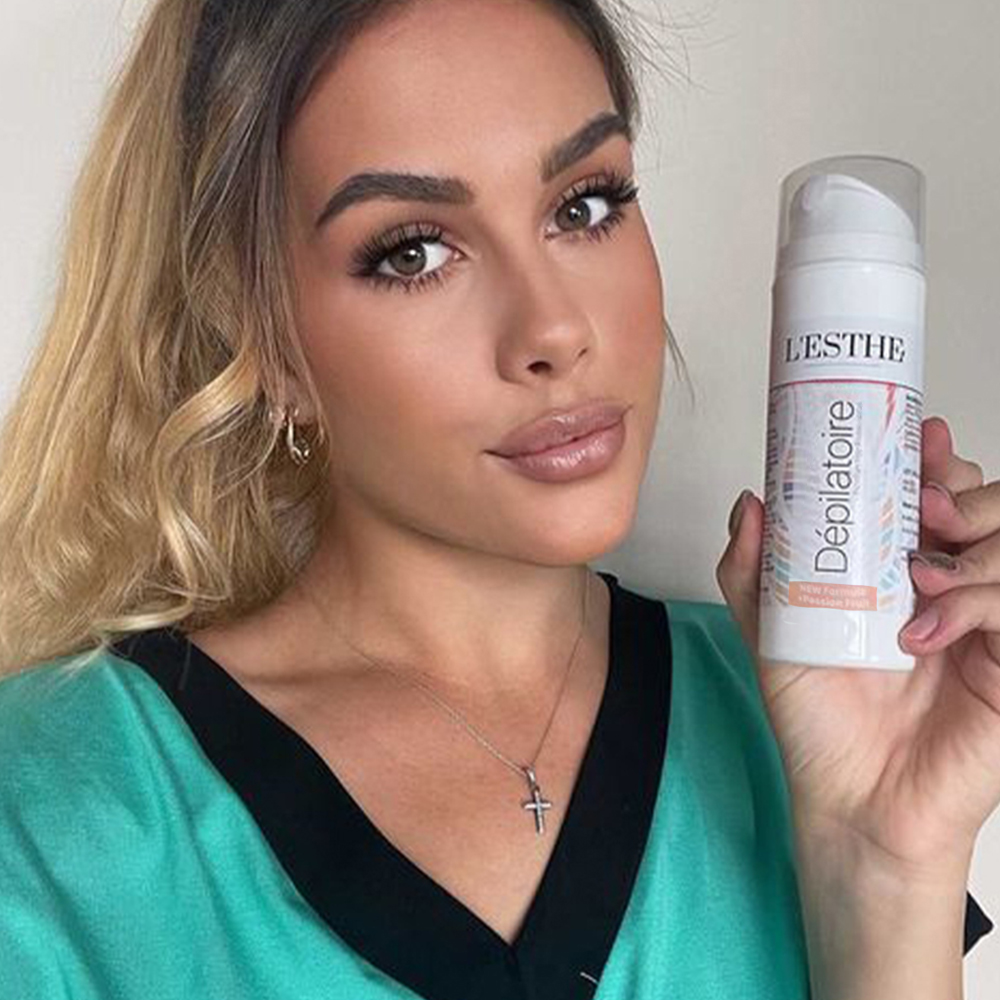 Clara Sue
L'Esthe is perfect for women like me who want to keep their sensitive skin flawlessly smooth. Even the most expensive epilators didn't do the trick. #1 reason to choose the gel - no pain, no redness and ingrown hairs.
GENTLE, BUT RELENTLESS TO UNWANTED HAIR
The Perfect Hair-Removal Formula Has Been Discovered
The brand
new

advanced

L'Esthe's formula

does

NOT MISS

any unwanted hair because…
Quick At-Home Method, Long-Lasting Results
Premium Gel Dépilatoire Infused with Natural Moisturizers
Highly-effective formula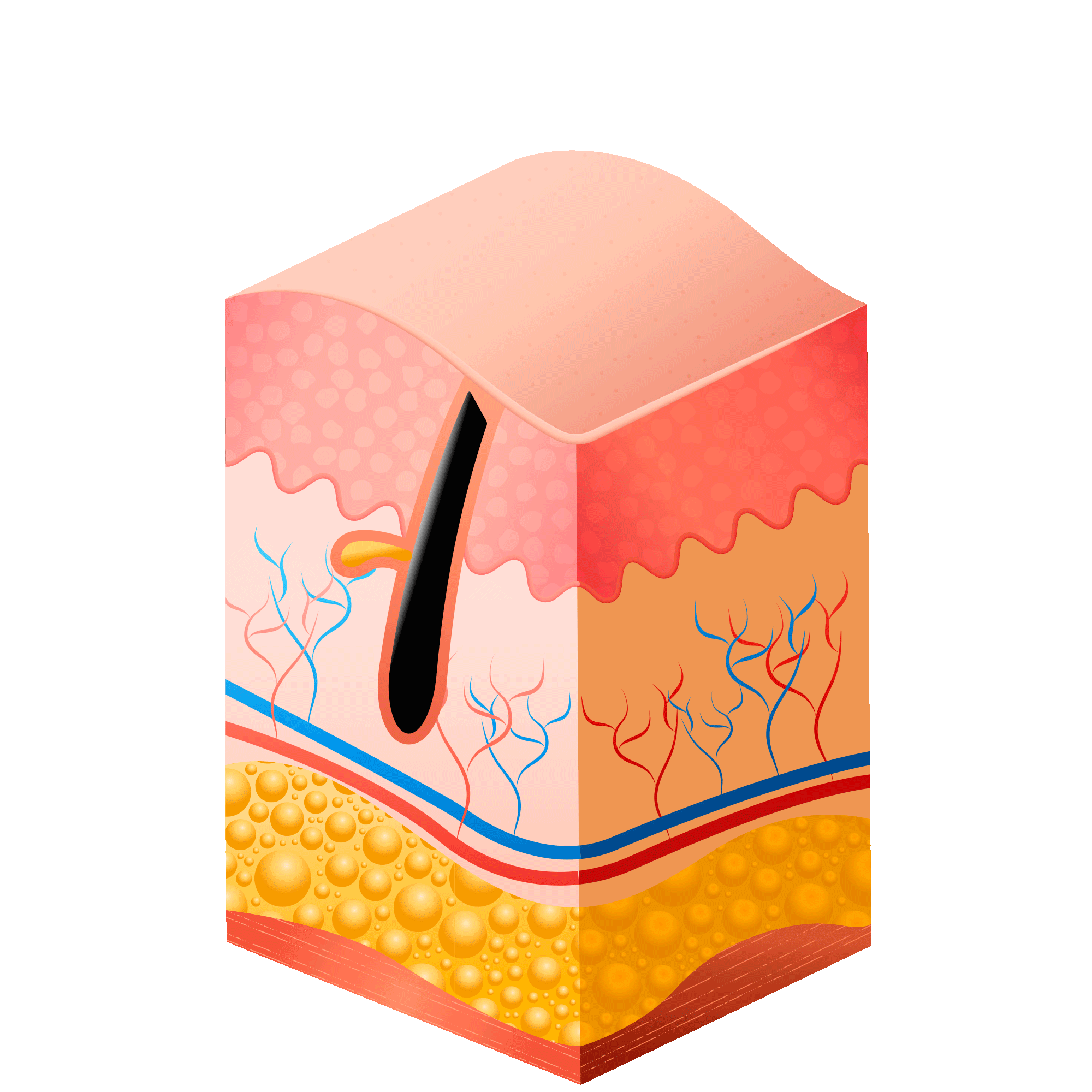 the natural complex enhanced with Passion fruit helps the active ingredients to gently dissolve the hair, removing it close to the root, keeping the skin smooth for longer.
the formula builds a barrier between the follicle and the hair, permanently reducing regrowth & hair removal frequency.
the distinct gel texture painlessly & easily removes any type of hair, anywhere.
L'esthe's natural approach

keeps the body hair-free & skin extra smooth
EASY. FAST. COMFORTABLE.
STEP 1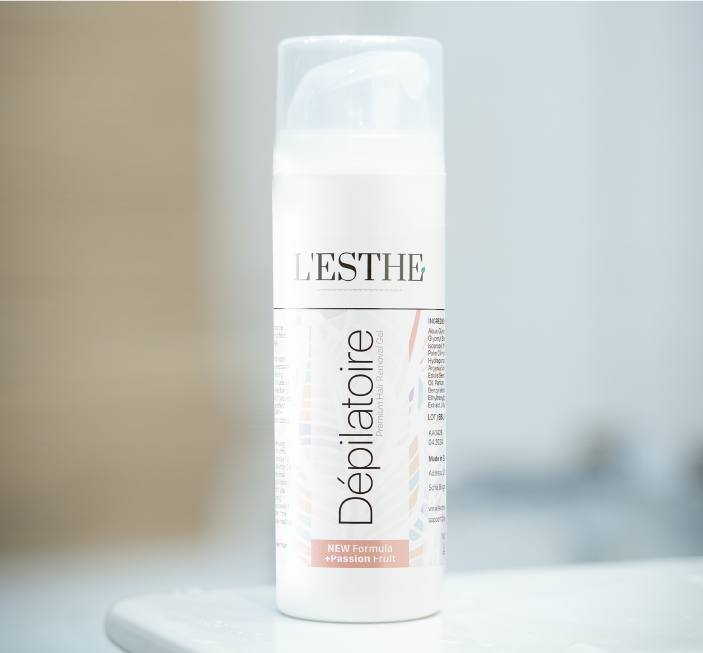 Clean and dry
Clean the intended area thoroughly and dry it completely.
STEP 2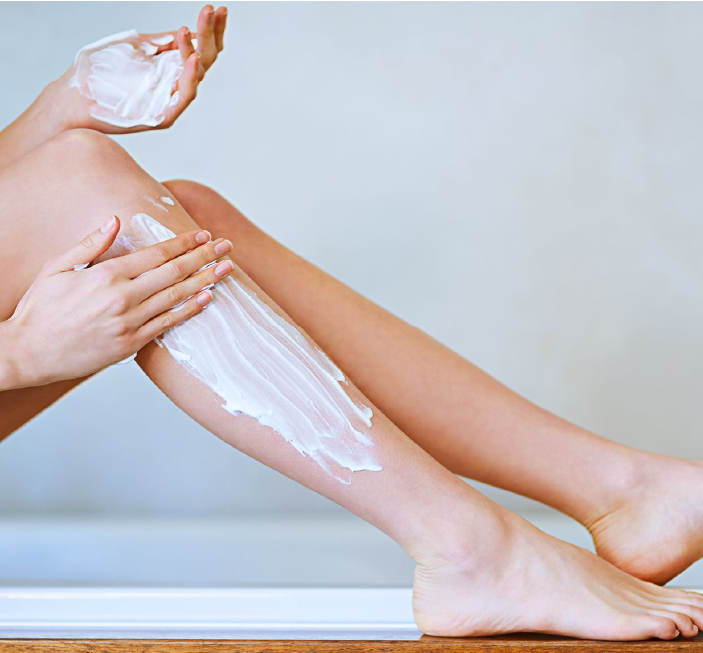 Apply the gel
Apply a thick layer of the gel in the direction of hair growth
STEP 3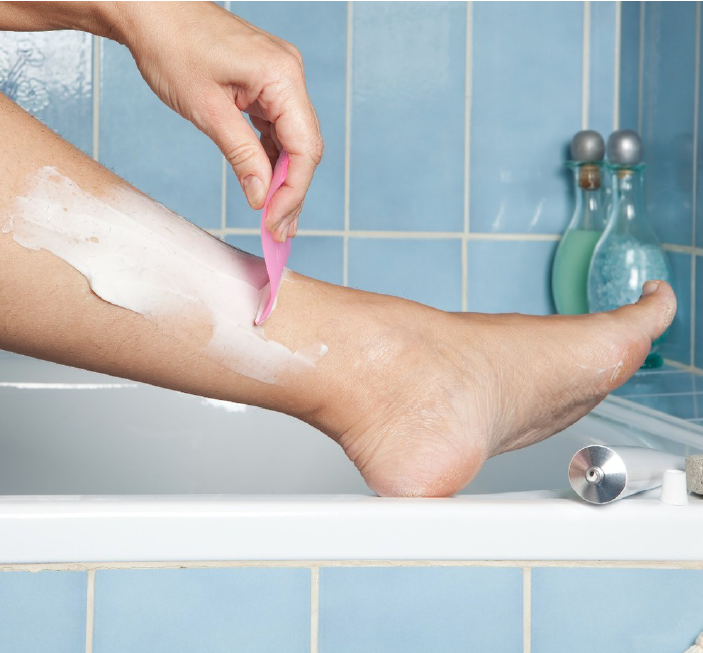 Remove the hair
Leave the gel (7-12 min) and scrape it away with the spatula.
STEP 4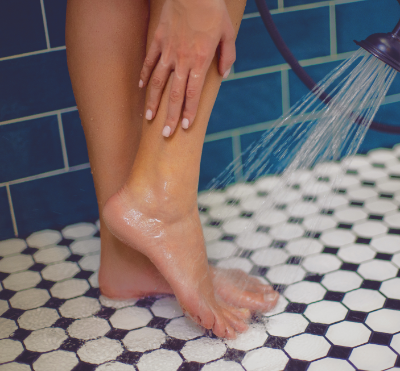 Wash away
Rinse your skin thoroughly with warm water. Enjoy flawless skin.
STEP 5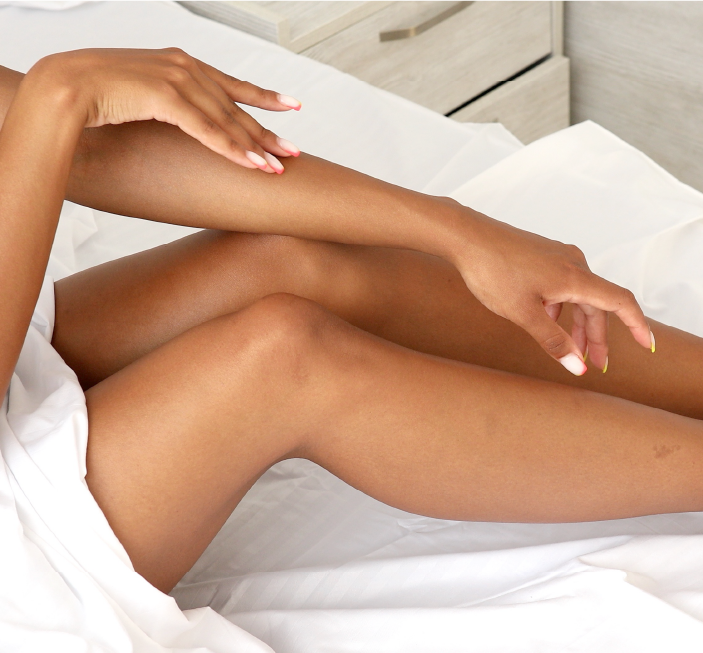 Apply L'Ocean
Massage the lotion into your body in small circular motions. Voila - your skin is tremendously smooth and protected!
The
new

Reinforced Formula


+ Passion Fruit

Now, the premium gel dépilatoire is reinforced with a new natural ingredient to work even better.
Passion Fruit
L'Esthe always evolves its formulas to provide you with the best quality hair removal solutions. The PASSION FRUIT in our formula safely targets the follicle to dissolve the unwanted hair fast & completely. Due to its high antioxidant and Vitamin A & C content, it is easily absorbed providing instant results for longer.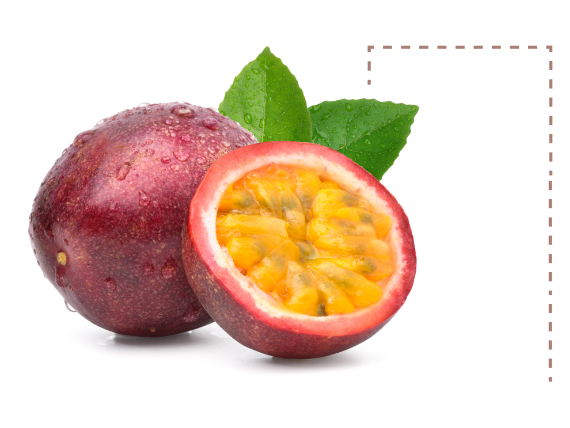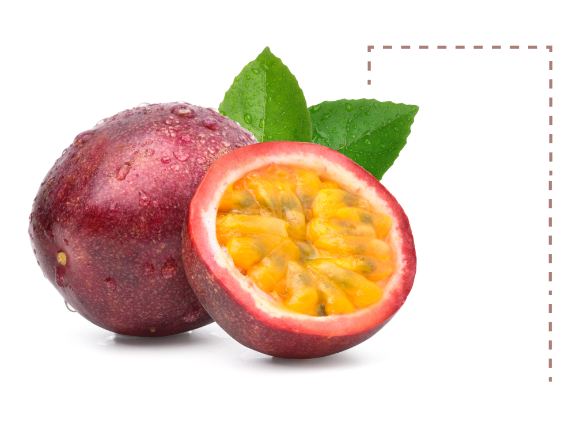 Reinforced Formula
L'Esthe is reinforced with Passion Fruit to:
melt the hair naturally, preventing regrowth
add a soothing, pleasant scent
keep your skin looking firm and youthful for longer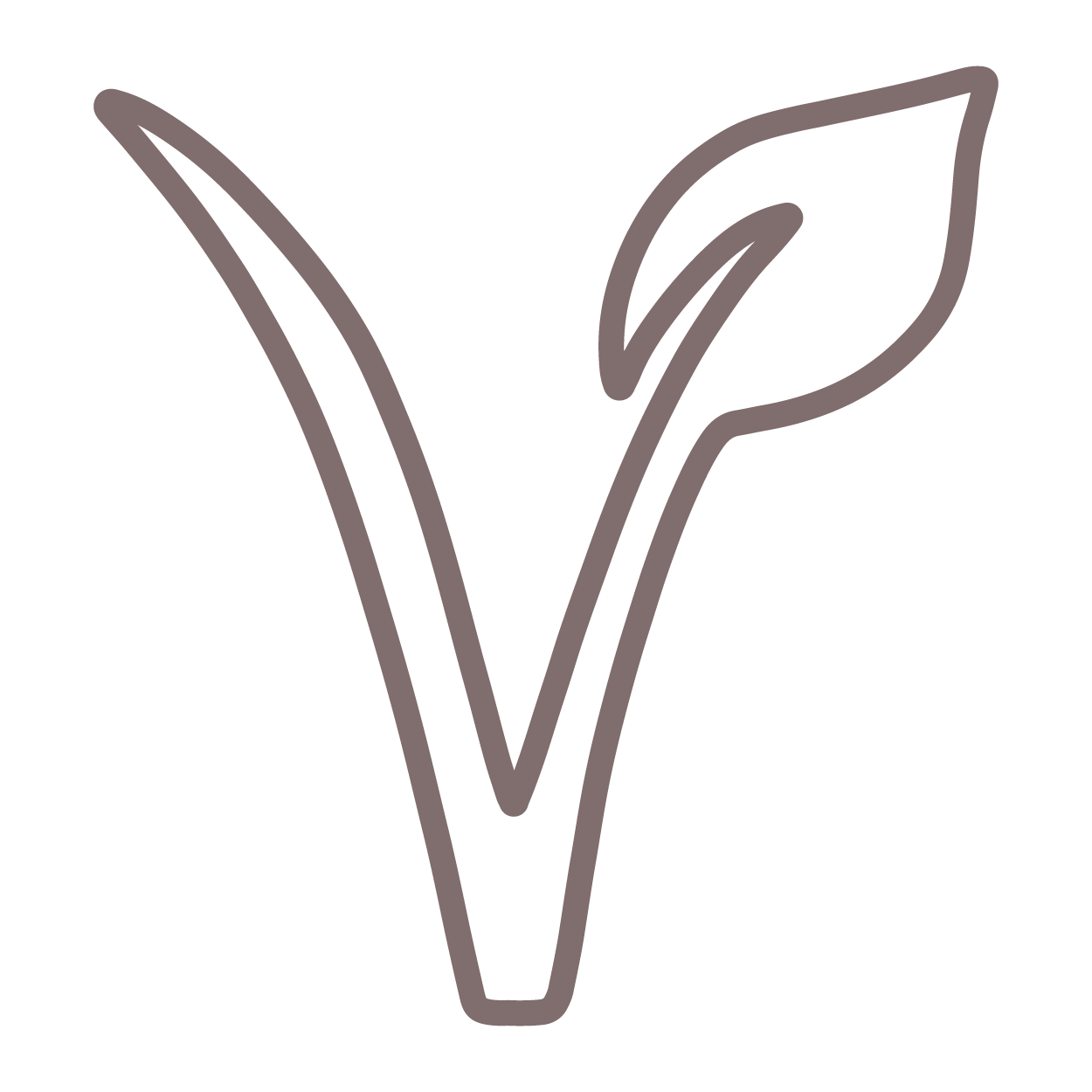 VEGAN-FRIENDLY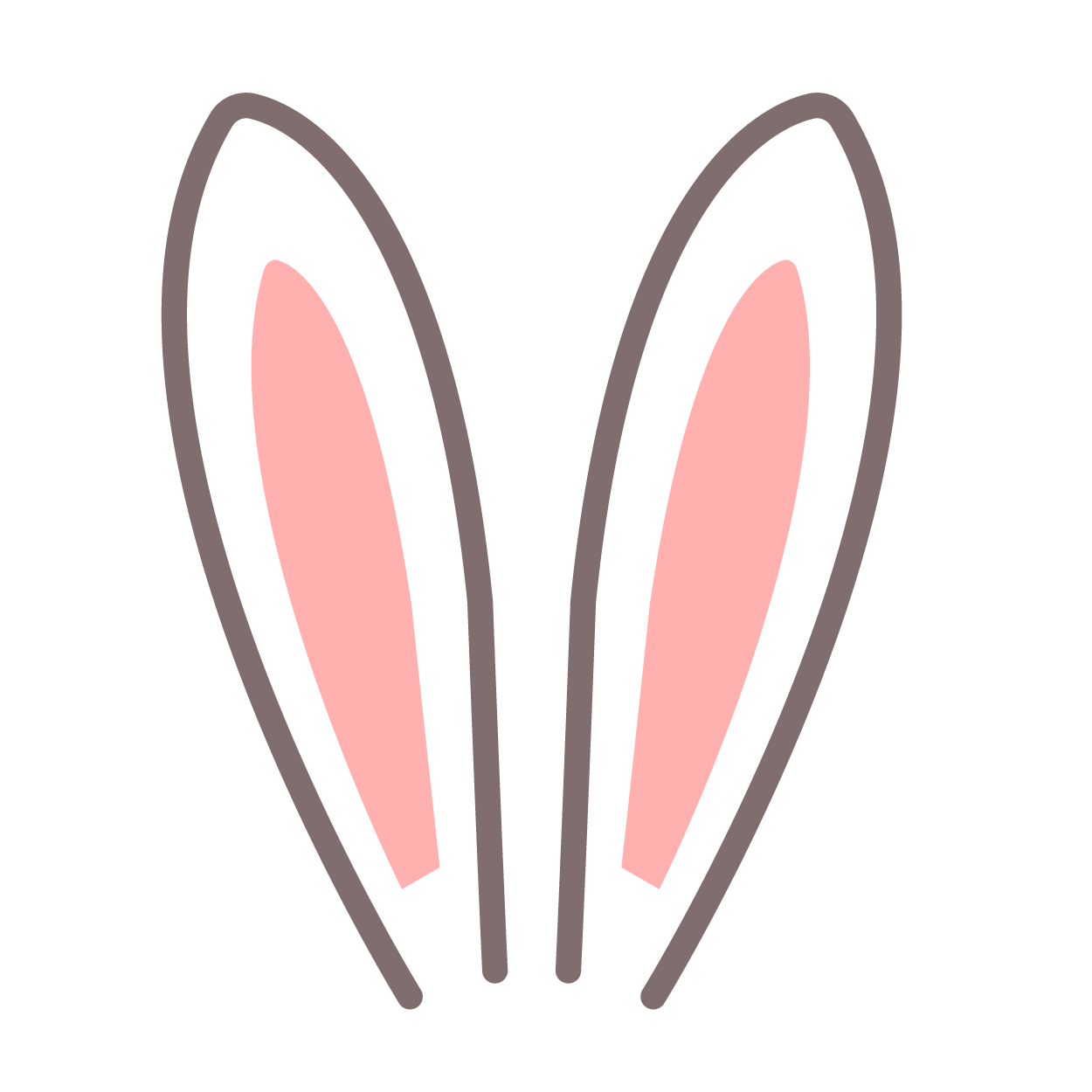 CRUELTY FREE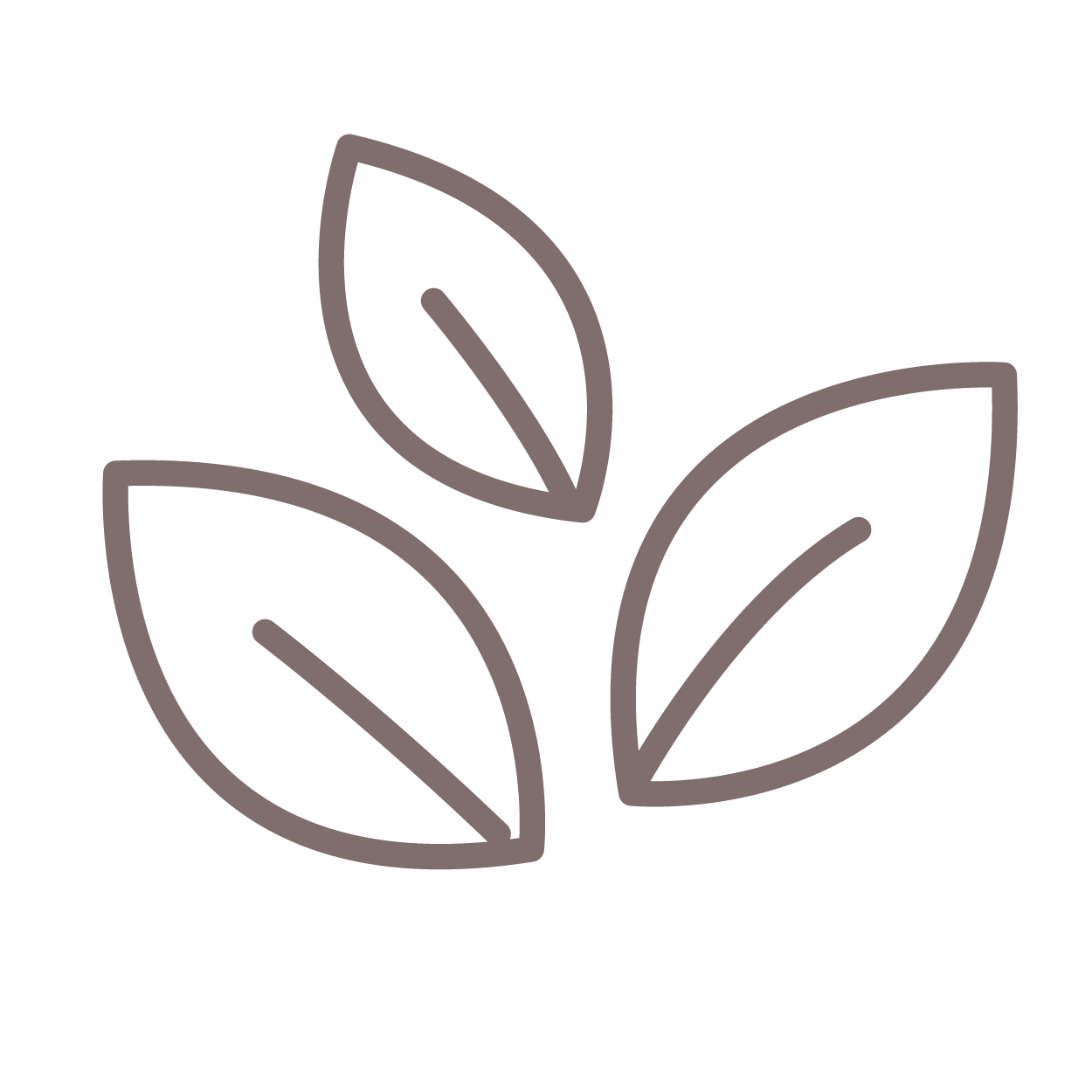 NATURAL INGREDIENTS
A NATURAL SOURCE OF VITAMINS, ANTIOXIDANTS, АND YOUTH
L'Esthe's natural & passionate approach keeps the body hair-free for longer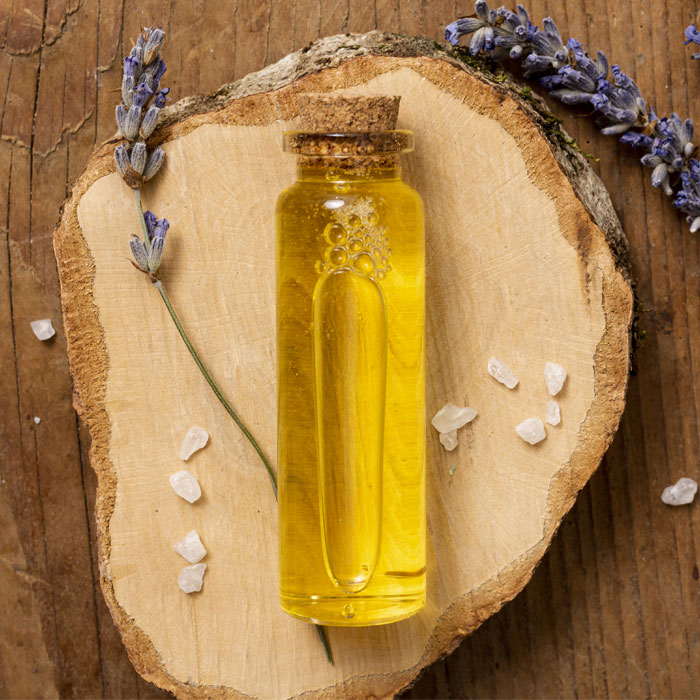 Argan Oil
Significantly increases the elasticity of the skin. Contains antioxidants, essential fatty acids, and vitamin E. Reduces inflammation, supports repair and maintenance of healthy skin. Powerful antioxidant, UV-protector, and free radical neutralizer. Natural oil extracted from the kernels of the argan tree (Argania spinosa) tree native to Morocco.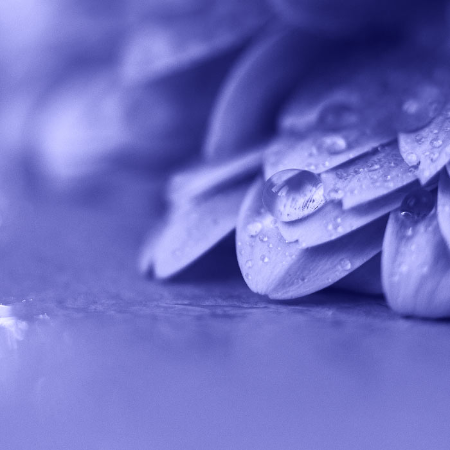 Lavender Oil
Helps skin regeneration, and is also known for its antibacterial properties. Contains more than 100 components, including linalool, linalyl acetate, lavandulyl acetate, and others. Acts as a strong stimulant and may relieve various neuralgic pains, sprains and rheumatism. It was also recognized in Roman times for its antiseptic and healing qualities.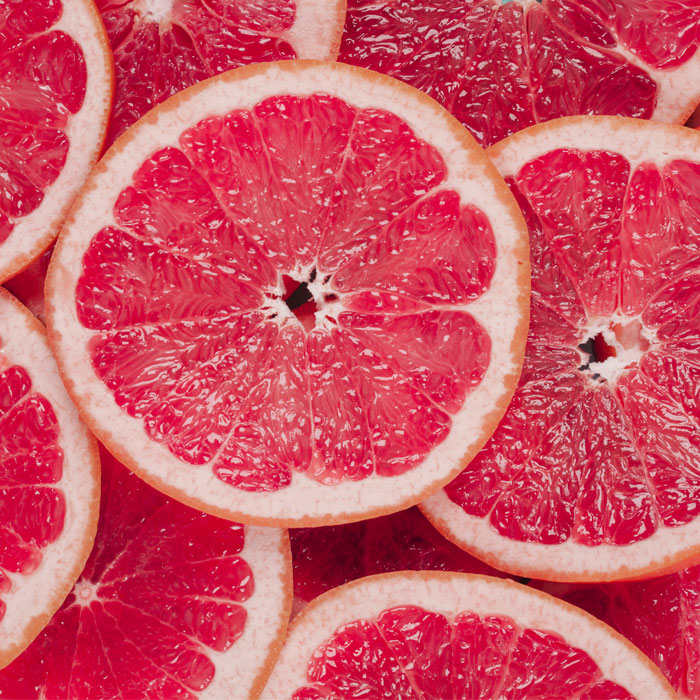 Citrus Grandis Fruit Extract
Revitalizes the skin by removing the damaged outer layers. Rich source of nutrients - contains bromelain, which is a powerful enzyme that has anti-inflammatory and cleansing properties. Exceptionally nourishing and protective, it stimulates collagen production, and thus maintains and improves skin elasticity.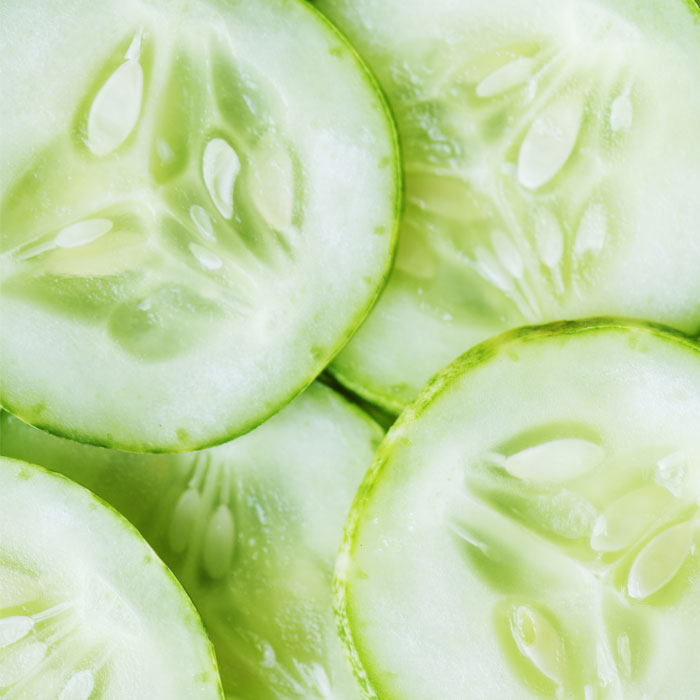 Cucumis Sativus Fruit Extract
Repairs dry and damaged skin, giving it a softer and smoother appearance. Contains Vitamin K, many potent antioxidants and anti-inflammatory nutrients. Lubricates, hydrates and conditions the skin. It is the perfect ingredient to give the last touch to a pH-balanced skincare product.
Show more
Show less
YOU ASK.
WE ANSWER.

How Long Should I Wait Before Using L'Esthe?
It's best to wait for 72 hours before using L'Esthe if you previously shaved. You should also wait for 72 hours before using the gel again.
How does L'Esthe experience compare to razor shaving?
L'Esthe works by dissolving the hair just below the surface of the skin whereas shaving sharply cuts the hair off at the skin surface which may cause infection and irritation. Not only L'Esthe doesn't cause cuts or unattractive prickly stubble, but it also moisturises and exfoliates your skin, keeping it hair-free for longer.
Depilatory gel or cream? What's the difference?
Beyond texture, depilatory gels and creams differ from the point of view of their formulation. L'Esthe is created in the form of gel to provide you gently with ultimate hydration as gel moisturizers have a more watery and lighter structure than creams do. Gels are preferable for sensitive skin and suitable for anyone wishing to opt for a lighter moisturizer during warmer seasons
How does the new formula make L'Esthe the best hair-removal solution?
At L'Esthe, we always strive to innovate and bring you the best hair removal solutions. Our new reinforced formula evolves research and passion beyond the conventional depilatory method. We've created L'Esthe + Passion Fruit for you to enjoy even better hair removal, as it dissolves hair naturally, preventing regrowth, keeping your skin looking firm and youthful for longer.
Why L'Esthe Cannot Be Found in Drugstores & Beauty Retailers?
The premium gel dépilatoire can only be ordered exclusively via our official website. Buying directly from the manufacturer guarantees you the best price, high-quality and express shipping. Be aware that there are many counterfeit hair removals and copies of our premium gel! Order the patented L'Esthe directly from here. It's secure, and the delivery is free, fast and reliable, straight to your door. NB: We provide shipping services in compliance with all anti-epidemic measures